Steel
Steel is a material formed of Iron Ore and Carbon plus other elements. The elements used to give the steel producers the mechanical and chemical properties they want to achieve. Steel has been used to build ships for over 200 years now. Modern steels for shipbuilding have a higher tensile strength than the steel used for earlier ships built. They now contain Carbon 0.21% max, and small amounts of Manganese, Silicon, Phosphorus, Sulphur, and Aluminium. This gives them an ultimate tensile strength of 400 – 520 (N/mm2). The production of Steel has now become a very precise science. In Europe, the International Organization for Standardization (ISO) specifies standards for shipbuilding materials (ISO, 2011).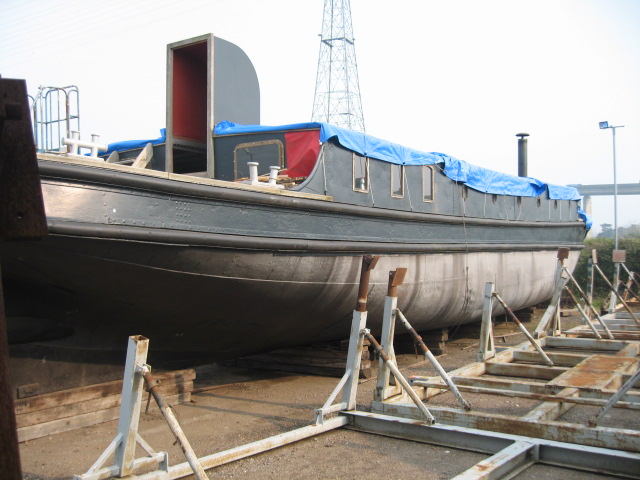 A yacht made from steel will be very strong but it is the heaviest out of all the boat building materials. Corrosion on steel can be a continuing problem and a maintenance headache. Some very good marine coatings are available on the market these days to help protect steel. However, if the yacht knocks or scrapes into something this can get damaged. Wood, Aluminium and FRP all burn, this makes steel the only fireproof material for yacht construction. It also has good green credentials as steel can be recycled.
Aluminium
Good strength to weight ratio, Aluminium is lighter than steel for the same strength. For example, very roughly speaking, and neglecting corrosion allowance in steel, aluminium plate should be between 1.25 and 1.5 times thicker than steel for the same strength. Aluminium, though, weighs 168 lb./cu. ft. vs steels 490 lb./cu. ft. only 34 percent of steels weight. A lightweight boat means a lower centre of gravity for better stability and sea worthiness. More speed for less power or sail area which means improved performance. Which is the main reason aluminium was used for racing yachts for many years. Which is the main reason aluminium was used for racing yachts for many years.
Aluminium being a softer metal, it is easier to work into any shape required for a hull. Aluminium does not rust as the surface forms an oxide coating which protects it. It can suffer corrosion if dissimilar metals are in contact with it, or stray currents, but so can steel. It does not require added plate thickness to allow for corrosion. Aluminium is expensive but if you compare it with the weight of steel needed to build the same size yacht. With metal being bought in £'s per lb in weight, it will be nearly half the weight of the steel needed. Aluminium has good green credentials as a boat building material which can be recycled. Aluminium has a higher scrap value compared with Steel.
Design and Construction
A steel vessel is made watertight with the hull and deck plating. The steel used should be ductile enough to be shaped, but still stiff enough to withstand the forces of the sea. However, the vessel gets its strength from its structure which is made up of transverse frames, internal bulkheads, and longitudinal framing. The structure is designed to allow a certain amount of flexibility. But must be strong enough to withstand the forces imposed upon it by water pressure. Therefore, the framework is tack welded to the hull plating. This makes the hull plating into small panels which do not bend so easily.
For example: A 4.75mm thick aluminium plate 250mm by 750mm will deflect by almost 1 x it's thickness (4mm) when a pressure loading of 12PSI is applied. However, a larger panel, 400mm x 1000mm, would deflect by approximately 20mm with the same pressure applied.
The vessel's structure will have the weight and torque of the engine, fuel, freshwater and other equipment creating an opposite force to the water pressure. The rig of a sailing yacht also causes loads on the structure, with the tension of the mast's stays and sails. The careful design of the vessel must spread the various loads over the internal structure. This must also support the hull and deck plating to prevent collapse under various loads, as above.
Surveyors Test Methods
A surveyor must try to find defects on a steel or aluminium vessel without doing any destructive testing. A surveyor looks for defects by looking into every space onboard a steel or aluminium constructed craft. Getting down into the bilges and engine compartments with his torch and magnifying glass. Looking for cracks, dents, rust, broken parts, or bad construction practices, which could affect the structural integrity of the vessel. To do this difficult job he has certain test methods available to help him come to his conclusions. First are his sight and good lighting for visual inspection. A mirror with a light on a long handle is handy for reaching difficult to get at spots. I have a snake camera/video scope for this which is a camera on a bendable probe. The picture comes up on my phone through a Bluetooth connection and photographs can be taken with it. A camera is useful for taking photographs of defects which will be added to the report.
A 1kg or 2-pound ball-peen hammer is an especially important piece of test equipment for steel vessels. Along with trained hearing, which becomes used to the percussion when hammering plates, frames, and other parts to check for hidden rust, on steel vessel. The sound from steel when struck with a hammer has a good ring to it. This sound gets duller on the thinner plate, through rust or light scantlings. Sometimes, on frames bits of rust will fall off and the remainder of the frame/plate can be measured with a Vernier. When pitting is seen a pit gauge can be used to measure its depth into the surface of the metal.
Testing Welds
When a surveyor is looking for defects in a weld, the first thing will be a good visual inspection of the welds. Is there enough penetration, is there any undercut, porosity, or cracks? Also, is there enough weld and is the size of the weld big enough for the thickness of the metal. The surveyor can use a dye penetrant to help him with his visual inspection. First, the weld is cleaned with a wire brush, preferably a stainless-steel brush if on an aluminium hull. A dye penetrant is simply just sprayed on, then after a few minutes the excess is wiped off and a developer is sprayed on. The developer draws the dye out of the surface defects and shows up any cracks or porosity.
Ultrasonic Thickness Gauge
A steel vessel can lose some plate thickness each year. The equipment used for finding the vessels plate thickness without destructive testing these days is called Ultra-sonic thickness (UST) gauging equipment. The traditional way was to drill small holes in the hull. However, with the new ultra-sonic testers which have probes that use multiple echoes. This allows measurements to be taken through surface coatings, which means not even the paint is damaged.
I have an ultra-sonic thickness meter to determine the remaining plate thickness of the hull structure. I have a Cygnus 4+ Ultrasonic thickness gauge which is compact and portable. It is a handheld instrument with a digital display and is designed for the marine environment. It can be used with a choice of ultrasonic probes to suit the material and thickness. The gauge measures material thickness using three methods; Single Echo, Echo-Echo or Multiple Echo. Echo-Echo and Multiple Echo allow measurements through surface coatings. Ultrasonic thickness surveying (UTS) is a non-destructive measurement of the local thickness of a solid object like metal. An ultrasound wave travels through the metal and reflects off the other side at a constant speed. Using the measured speed, called the celerity, and the distance travelled by the wave. The object's thickness is then calculated by the meter.